Trust The Top Google Reviewed Criminal Defense Law Firm
Arja is Here For You
Arja Shah is a leading Criminal Defense Attorney serving Phoenix, Scottsdale, Mesa, Tempe, and surrounding areas. Arja has successfully defended hundreds of individuals facing serious charges carrying life-altering ramifications. Arja truly understands what is at stake when you're charged with a crime and takes great pride in offering very personalized service to her clients.  Arja strongly believes it's not just about knowing the law, but also knowing how to comfort and lead people through difficult times.
Arja believes that everyone deserves a quality defense, as evidenced by her client reviews and numerous professional awards. Arja will aggressively defend you in court while vigorously protecting your constitutional rights.
Arja was selected to the The National Top 100 Trial Lawyers and named a 2015, 2016, 2017 & 2018 Top 100 Attorneys by Phoenix Magazine.
When You Need a Partner,  Not Just a Lawyer…
Arja Handles Every Client Directly.
A LEADING ARIZONA CRIMINAL DEFENSE ATTORNEY WHO CAN WIN YOUR CASE
You Need A Problem Solver, Not an "Associate"
Arja has successfully defended over 1,000 Criminal Cases in Arizona. The sooner you call The Shah Law Firm, the sooner Arja can help with preparing your defense.   When you call, you will speak directly with Arja. Arja doesn't believe in "scare tactics" that many of her clients have experienced with other attorneys during consultations. There is always hope. Whether it's finding a loophole or legal issue, Arja will work hard to find a way out of a potentially dire situation.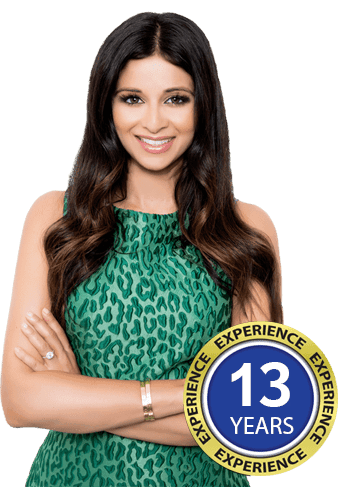 Contact To Learn How Arja Can Win Your Case
Proven Results From One of the Valleys Top Attorneys
Arja represented me for a DUI case in Scottsdale. I met with her immediately after being charged and she very quickly was able to speak to the prosecutor and get my charges reduced after my initial hearings. She was attentive and easy to talk to. She gets results.
Arja was extremely knowledgeable and kept us up to date on the entire case. I would hire her and recommend her to anyone- although I hope I never need her help again! But if a problem arises I would be sure to call her!!
Ms. Shah got my charges completely dismissed. She worked hard, was thorough and took care of all the details. Seriously, hire her. It's complete piece of mind.
During my recent DUI case and time spent working with Arja Shah I can say I had an absolute positive Experience. She was there to represent me and handle my questions and concerns with ease. Thank you.
I endorse this lawyer. She is knowledgeable as well as up to date on the latest case law. She is one of the very few attorneys I would recommend to family or friends.
First, Arja is a superb and energetic attorney who is always willing to listen and help out in client cases. Second, she works hard for your case to minimize or eliminate penalty for the charges you are facing. She has good analytical mind and presents your case successfully. Third, she is approachable even outside work hours if situation calls for it. Always punctual for meetings. Lastly, she is affordable attorney in comparison to some big name law firm where personalized and flexible service is almost impossible. The above review is based on my experience derived from her working on my case.
I was totally impressed and grateful for the expertise and successful case Arja handled for me. She answered my calls immediately and saved me allot of professional and personal heart ache.  Arja did a great job refuting the States evidence and convinced the Prosecutor that my chewing tobacco was a major issue in the case that the officer did not check. – May 11th 2017
Served for three years active duty so far stationed in Anchorage Alaska, in Arizona for a vacation never had a run in with the law and 22 years old I was scared but once I got on the phone with Arja things started getting taken care of because once you have a plan and you can objectively look @ your problem things get easier, she helped me do that as well as lessen my fines by far and days in jail to zero. You can take your chances with a court appointed lawyer but my advice after my experience is go with Arja.
Attorney Arja Shah took the time to compile letters from family members and show the Prosecutor that they lacked evidence to move forward with my case. Arja did what she said she would do and was there to help me. Outstanding Attorney.
Officers refused to provide an independent test. Arja argued that my rights were violated and my case was dismissed.
Arja's reputation with the prosecutor helped in my case. The court staff all seemed to respect her and I feel like it helped in getting my case dismissed. Great Attorney
Accused of a DUI created so much anxiety that I envisioned jail time that I couldn't afford since I would have lost my job and house. The day that I hired Arja was the day that my anxiety subsided, and when my case was over, I realized why some lawyers are better than others and I thank my lucky stars for Ms. Shah's experience and professionalism.
Sounds cliche, BUT an Attorney you can Trust!
Arja was amazing from the moment we spoke over the phone. She immediately went to work for me and my daughter before I even signed the contract or paid any fees. This showed me I could trust her and that she truly has compassion for what she does. This was the first time I needed an attorney and with the type of case, it was important that I hired someone with experience, willing to take on a case mid stream and most importantly trusting my daughters future in their hands. I did a lot of due diligence prior to hiring Arja. It's a brutal process of consultations, money, explaining the circumstances over and over, but an extremely important one. Once I spoke with Arja I immediately made my decision she was IT! It was honestly a huge weight lifted and I couldn't be happier with my decision.
My husband was falsely accused and charged with two DUIs as a result of an accident that was not his fault and in which he suffered very serious injuries. The first time we met with Arja she came across very confident and passionate in our case and we knew right away that she would represent my husband well. She understood our financial circumstances and worked with us throughout our case.  After a yearlong battle with the toughest court in AZ, she was able to get our cases DISMISSED!!! I highly recommend hiring Arja and having her support your case. You will not be disappointed!
Proven Results with over 1,000 Criminal Cases Defended
Proven Results in All Areas of Criminal & DUI Law
It can be terrifying being charged with a crime. Let Attorney Arja Shah navigate the criminal justice system for you. Arja routinely teaches classes to other attorneys on how to handle complicated legal issues and how to suppress evidence in criminal cases.
Avoid Unnecessary Jail Time and Fines
Affordable Rates and Payment Plans Offered
You're a Client, not a Case #. Speak Directly with Arja at ALL Times
The Valley's Best DUI & Criminal Defense Lawyer
Why You Can Depend on Arja to Win Your Case!
Successfully defended over 1,000 client cases.
Passionate about helping clients who value their freedom.
Arja has devoted her entire career to helping her clients with the utmost compassion and concern that every citizen deserves.
Arja Shah is an experienced attorney with an outstanding track record to fight for you.
By contacting Arja, you'll receive a complete review of your case and details.
Arja will uncover specific details and potential legal loopholes that may affect your case and outcome.
Arja will explain in plain language so you can understand. Afterwards, you'll know the immediate steps Arja will do to reduce or eliminate the charges against you.
You will be treated with respect.