Leading Arizona Criminal Defense Attorney
About Arja Shah
Arja Shah is a leading Arizona Criminal Defense Attorney serving Phoenix, Scottsdale, Mesa, Tempe, and surrounding areas. Ms. Shah acquired her experience by defending hundreds of individuals facing criminal charges ranging from minor traffic offenses to second-degree murder. Arja regularly defends individuals charged with serious crimes that carry life-altering punishments and ramifications. She has successfully defended numerous jury and bench trials and takes great pride in offering very personalized service to her clients.
Ms. Shah created the Shah Law Firm with the sole purpose to use her several years of Criminal Law experience to fight for the dismissal of her client's Criminal cases. Arja will aggressively defend you in court against the serious charges that you have been charged with while vigorously protecting your constitutional rights.
In 2014, Ms. Shah was selected to the The National Top 100 Trial Lawyers and named a 2015 and 2016 Top 100 Attorney by Phoenix Magazine.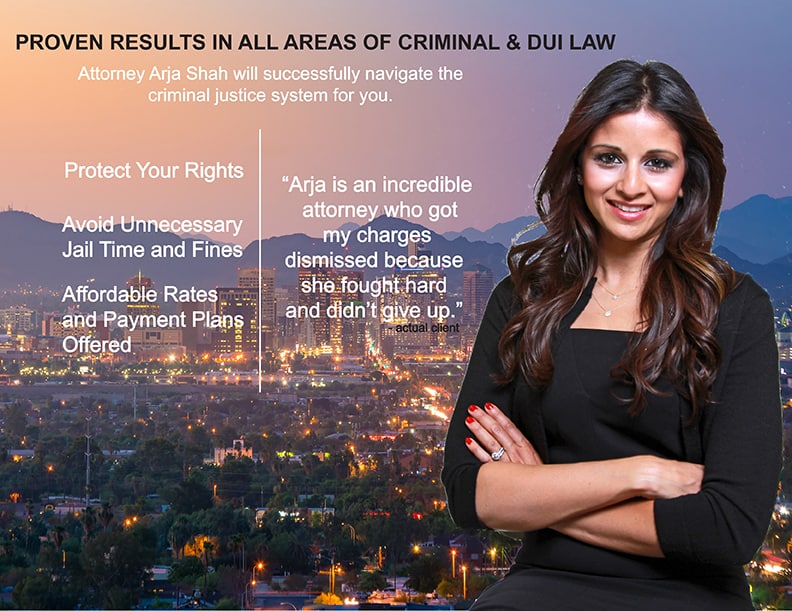 Arja is a true professional and kept my mind at ease about my situation, which is difficult for most people to do. She was happy to answer all my questions and always kept me informed about my case. Without her expertise, support and how she dealt with the prosecutors, things would have been completely different for the rest of my life.
Thank you Arja for all your help!
Arja represented me for a DUI case in Scottsdale. I met with her immediately after being charged and she very quickly was able to speak to the prosecutor and get my charges reduced after my initial hearings. She was attentive and easy to talk to. I would recommend her.
Arja was referred to me by a family friend who previously used her during his criminal matter. I was not looking for a an in-personal attorney/firm as I was EXTREMELY worried about the how the outcome could drastically change my future. I never had been in trouble before and had a lot of questions that Arja always took the time to answer and keep me up to date with my case. I always felt like she genuinely cared about defending me and making sure we got a favorable outcome.
Arja seemed to know everyone in the court system including the prosecutor and judge. In the end, my case was dismissed. I would recommend using Arja for any legal matter and have referred her services to another person that I know who also had a similar positive experience.
I am beyond happy with the service I received from The Shah Law Firm. The two things I valued the most were their experience and their punctuality. After being under the age of 21 and being charged with a DUI after falling asleep in my car, I ended with a plea of only an MIC. I could not be more happy with the attorneys I had the pleasure of working with. I would recommend them for any and all DUI cases.
I was in Arizona for work and got arrested. Arja was able to handle everything without me needing to come back to Arizona and got my front charge reduced to a misdemeanor because she found an issue that really helped in my case. She was affordable and did a great job.
Ms Shah is highly intelligent and committed. She defended me for a DUI. The case was dismissed. She was the third lawyer I had been to. I knew she would provide a thorough and detailed defense.. She did. I highly recommend her.