Phoenix Criminal Defense Lawyer
Phoenix Attorney Arja Shah is an experienced criminal law attorney with a focus on criminal charges of all shapes and sizes ranging from MIC's and shoplifting, to the most serious of violent crimes.
Arja represented me for a DUI case in Scottsdale. I met with her immediately after being charged and she very quickly was able to speak to the prosecutor and get my charges reduced after my initial hearings. She was attentive and easy to talk to. I would recommend her.
Arja was extremely knowledgeable and kept us up to date on the entire case. I would hire her and recommend her to anyone- although I hope I never need her help again! But if a problem arises I would be sure to call her!!
Arja Shah is a leading Arizona Criminal Defense Attorney. Ms. Shah acquired her experience by defending hundreds of individuals facing criminal charges ranging from minor traffic offenses to second-degree murder. Arja regularly defends individuals charged with serious crimes that carry life-altering punishments and ramifications. She has successfully defended numerous jury and bench trials and takes great pride in offering very personalized service to her clients.
Ms. Shah created the Shah Law Firm with the sole purpose to use her several years of Criminal Law experience to fight for the dismissal of her client's Criminal cases. Arja will aggressively defend you in court against the serious charges that you have been charged with while vigorously protecting your constitutional rights.
In 2014, Ms. Shah was selected to the The National Top 100 Trial Lawyers and named a 2015 Top 100 Attorney by Phoenix Magazine.
Types of Criminal Cases We Handle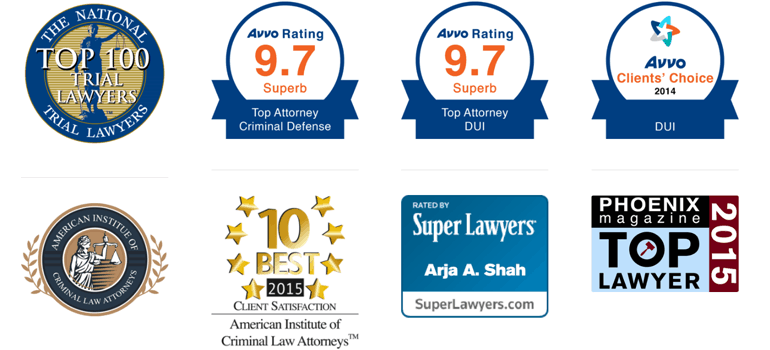 Schedule a Free Consultation
Simply fill out the form below and we will respond within 24hrs, or call our office at 602.888.0369