Many people think that incidents of domestic violence charges will spike during the holidays. The holidays can be stressful and cause people to take their anger out on those who are closest to them. Several factors can lead to domestic violence incidents during the holidays, including financial stress, unrealistic expectations, increased alcohol use, and being shut inside with immediate family members for extended periods.
During this holiday season, all of these factors are compounded by the impact of the continuing COVID-19 pandemic and the added layers of stress and financial problems it has wrought. While domestic violence cases do happen, some people also lash out at their family members by filing false reports.
People who are facing domestic violence charges should talk to a domestic violence attorney at the Shah Law Firm as soon as possible.
---
Speak to Arizona Defense Attorney Arja Shah Now
We are Open and Available to answer any questions. Free consultations by phone or video chat.
Shah Law has successfully defended over 3,000 clients. We are on your side!
---
Increase in Domestic Violence Charges During the Holidays
The holidays bring a lot of added stress to families in Arizona. People can be overwhelmed when they have to plan holiday celebrations. They might also be facing increased financial stress and have unrealistic expectations of their experiences. Holidays can always be overwhelming. However, the 2020-2021 COVID-19 pandemic has added even more stress. Many families are struggling financially and simply do not have the means to celebrate in the way in which they would like.
According to data from the Phoenix Police Department, domestic violence homicides increased by 180% year-over-year during the first eight months of 2020 as compared to the same period in 2019. This demonstrates that people were already under significant stress even before the holiday season got started.
Domestic violence charges can result from many different situations and do not always involve a husband abusing his wife. People may be victims of domestic violence regardless of gender. Under ARS 13-3601, domestic violence can also include acts involving people who share children in common, ex-spouses, people who live in the same household, children who live in the same home, and people who are related by blood. It also can include acts involving people who are currently or who were formerly in a romantic or sexual relationship with each other.
The long-term effects of the Covid-19 pandemic definitely impacted the 2020 holidays, and unfortunately will carry into the 2021 holidays as well. More people are suffering substantial economic pressures caused by job losses. The increased strain associated with spending more time at home with family members under difficult financial and health circumstances can also be difficult.
If you have been accused of an act of domestic violence, you should retain an experienced criminal defense lawyer at the Shah Law Firm as soon as possible.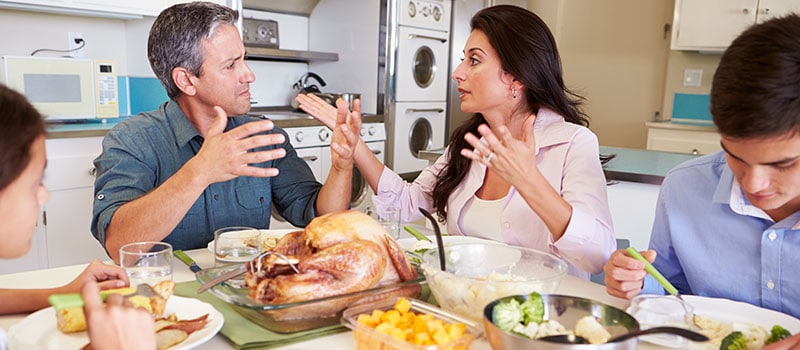 ---
What can be Charged as a Domestic Violence Crime?
Crimes of domestic violence depend on the relationships between the accused and the alleged victims. Many different offenses can be charged as domestic violence-related offenses, including the following:
Negligent homicide under ARS 13-1102
Manslaughter under ARS 13-1103
Second-degree murder under ARS 13-1104
First-degree murder under ARS 13-1105
Endangerment under ARS 13-1201
Criminal threats or intimidation under ARS 13-1202
Misdemeanor assault under ARS 13-1203
Aggravated assault under ARS 13-1204
Custodial interference under ARS 13-1302
Unlawful imprisonment under ARS 13-1303
Kidnapping under ARS 13-1304
Sexual assault under ARS 13-1406
"Revenge porn" under ARS 13-1425
Criminal trespass under ARS 13-1502 – 13-1504
Criminal damage under ARS 13-1602
Interference with judicial proceedings under ARS 13-2810
Disorderly conduct under ARS 13-2904
Cruelty to animals under ARS 13-2910
Preventing someone from using the phone during an emergency under ARS 13-2915
Telephone or online harassment under ARS 13-2916
Harassment under ARS 13-2921
Aggravated harassment under ARS 13-2921.01
Stalking under ARS 13-29239
Surreptitious taping under ARS 13-3019
Aggravated domestic violence under ARS 13-3601.02
Child abuse, vulnerable adult abuse, or emotional abuse under ARS 13-3623
When the relationship between the involved parties is one of the previously described relationships, any of these types of offenses can be charged as domestic violence crimes.
Domestic violence offenses can be charged as misdemeanors or felonies, depending on the underlying conduct that is alleged to have occurred.
Whether you are facing misdemeanor or felony domestic violence charges, getting legal help is critical.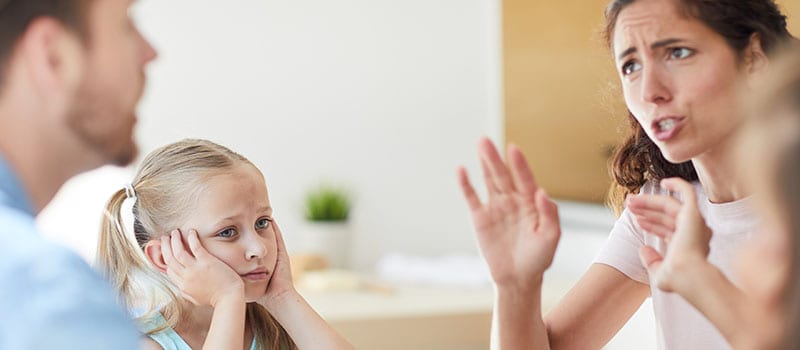 ---
Misdemeanor Domestic Assaults
Most domestic violence cases are misdemeanor assaults under A.R.S. 13-1203. Under this statute, you can be charged with a misdemeanor domestic assault if you knowingly, intentionally, or recklessly touch another person with whom you have one of the previously defined relationships with an intent to injure or provoke him or her or when you recklessly cause him or her to suffer any type of injury.
You can also be charged with this offense if your actions cause the other person to experience a reasonable fear that he or she might suffer an imminent injury. This offense can be charged as an act of domestic violence under ARS 13-3601 as long as the relationship that you have with the other person qualifies under that statute. This type of charge can be filed if any injury is left on the other person, including minor scratches or red marks.
Misdemeanor assaults may be charged as Class 1, 2, or 3 misdemeanors. While most of these offenses are charged as Class 1 misdemeanors, you might be charged with Class 2 or 3 misdemeanors if you did not cause any physical injury or did not intend to commit the assault.
If you are convicted of a Class 1 misdemeanor assault, you will face up to six months of jail, possible probation, and a fine of up to $2,600. If you are convicted of a Class 2 misdemeanor carrying potential probation, up to four months of jail, and a fine of up to $750.
When you are convicted of misdemeanor assault as a domestic violence offense, the penalties will be the same. However, a domestic violence conviction can cause you to lose custody of your children and can be used against you in a divorce or child custody case. Domestic violence convictions can also make it more difficult for you to find a job and cause other problems in your life.
---
Aggravated Assault with Domestic Violence Charges
Under A.R.S. 13-1204, you may be charged with aggravated assault as a crime of domestic violence if you intentionally, recklessly, or knowingly cause serious injury to another person with whom you have one of the previously described relationships. You can also be charged with this offense if you use a deadly weapon during the offense, cause temporary, substantial impairment or disfigurement, or commit the act while the victim is bound.
Depending on the circumstances, a conviction for aggravated assault can be a Class 3 or Class 4 felony offense.
If the victim is younger than age 15, it will be a Class 2 felony.
Here are the typical prison sentences based on felony class:
A conviction for a Class 4

felony aggravated assault carries up to 8 years in prison

.
Class 3 felony aggravated assault carries a sentence of up to 15 years in prison.
Class 2 felony aggravated assault carries a sentence of up to 21 years in prison.
---
What are Possible Defenses to Domestic Violence Charges?
When you are facing domestic violence charges, the prosecutor will have the burden of proving each of the elements of the underlying offense beyond a reasonable doubt.
To prove domestic violence beyond a reasonable doubt, the prosecutor will need to prove the type of domestic relationship that you shared with the alleged victim as well as the elements of the crime of which you have been charged.
The domestic violence defense strategy that your attorney might follow will depend on the facts and circumstances of your case.
Some of the most common defenses that are raised in domestic violence cases include the following:
Defense of others
Display of a firearm in defense
Prevention of a crime
Alibi Defense
Did not have the required mental state or a lack of intent
Constitutional rights violations
False reporting/actual innocence
Your criminal defense attorney will review your case to determine which defenses to raise in your case. At the Shah Law Firm, we do not use a one-size-fits-all approach and instead tailor our strategies to meet each client's unique situation.
---
Contact the Shah Law Firm today
The holidays are already a stressful time for most people. With the added stressors brought on by the pandemic, an even greater number of domestic violence reports will likely be made.
If you are accused of an act of domestic violence, you should seek legal help immediately from an experienced domestic violence lawyer at the Shah Law Firm.
We will carefully analyze the facts of what happened and explain the legal options and defenses that might be available to you.
Call us today to schedule a free consultation by calling us at 602.560.7408.